Announcing: CCREF Young Investigator Scholarship 2015
International Year of Soil
With the support and donation from Filtrexx International, CCREF has founded a Young Investigator Scholarship. The focus of the program is to help support a young professional's research in the fields of compost use and application for soil conservation effort. We are looking for a student (undergraduate through PhD) whose research and interests are focused on composting. More specifically, the ideal candidate will have interest in compost application and utilization as it relates to increasing drought tolerance, nutrient content, reducing erosion and water pollution.
The goal of the Young Investigator Scholarship is to bring attention to emerging young professionals in the field of compost research and to spark interest in the future of the composting industry.
Application Requirements:
Submission is Open
Application Deadline: There is no Deadline, but if you would like to be considered for the April scholarships, you must apply by March 1st.
Recipient of the scholarship will be awarded funds to support their research and education. The recipient be invited to display a research posted at the USCC Conference in 2016.
All materials must be submitted, by the deadline, to Beth Simone, Development Officer, at bethsimone@compostfoundation.org
---
Vermont College Student's Biochar Project Wins Young Investigator Scholarship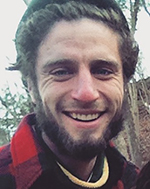 Brandon Erny, of Milwaukee, WI, a student at Sterling College in Craftsbury, VT was selected from 17 applicants for 2014-2015. He will receive $2,500 toward his research project on the impact of biochar on nutrient retention in compost.
Twice as many students applied for the YI scholarship this year.
Brandon's study, "Investigating the use of biochar to increase nutrient retention in compost-production, and following compost spreading", will test the role of biochar, charcoal used for soil amendment purposes, on retaining soil nutrients that normally escape in the compost process. Erny is compost manager at Sterling College, and is studying carpentry and sustainable design.
See Brandon's Application Here